Communications Workers of America
Maryland/West Virginia
2 West Potomac Parkway, Williamsport, MD 21795 Phone: 301-582-2105 Fax: 301-223-7160

O

n behalf of the Bargaining Committee, we are pleased to report that CWA members at Frontier Communications in West Virginia and Ashburn, Va. have voted to ratify the 4-year agreement that the bargaining team reached last month.

Our members fought hard for this agreement. We negotiated for over 11 months, then spent 22 days on strike. Thanks to our unity and perseverance and the unwavering support of working people in West Virginia, Virginia, and across the country, we won an agreement that raises wages, maintains affordable health care and expands job security to all of our members.

This is a major achievement, and it shows what working people can do when they join together to stand up for themselves and their communities.
Communications Workers of America Local 2105 Memorial Scholarship Offered to Graduating Seniors

Local 2105's Executive board agreed in January 2007 to establish a scholarship in in memory of deceased members of the Local to benefit the children and grandchildren of members and retirees of Local 2105.

This year's scholarship is available to all High School graduating seniors. The Guidelines and Application can be found Here.

The application and accompanying information must be
postmarked no later than June 18, 2018.
Health Care




Benefits




Coordinators

Ines Millard- 1-888-571-7218
MD/DC/VA/WV-Actives
Medical, Dental, Vision, Disability and Enrollment Issues
ines.l.millard@verizon.com
Jodi Grant- 1-888-324-4969
NJ/PA/DE-Actives
Medical, Dental, Vision, Disability and Enrollment Issues
jodi.l.grant@verizon.com
Cynthia (Cindy) Ebner- 1-866-248-4449
Mid Atlantic Retirees
Medical, Dental and Enrollment Issues
cynthia.x.ebner@verizon.com
The HCBC's can handle issues from any active or retired Mid-Atlantic CWA (NJ,
PA,DE,MD,DC,VA,WV) represented members, regardless of their home state.
Save Up To 35% On Your Orlando Vacation! Orlando Employee Discounts offers Exclusive Pricing on Hotels & Vacation Homes in or nearby Disney World and Universal Studios Orlando!

Orlando Vacation Employee Discount Newsletter

We are excited to present our latest employee discount newsletter to you and your company. Please

click here

to view our most current deals.If we can be of any assistance to you please feel free to give us a call at 888-632-1103.

Thanks,

Keith Jablon
Corporate Partnerships
Orlando Employee Discounts
888-632-1103 ext 7004
In 2016, Verizon is looking at everything our Members are posting On-Line.
Keep reminding our Members, especially those who are active Verizon employees, to be careful not to post anything on Facebook, Twitter, or any other social media site that in any way could jeopardize either their own or their fellow Union members' employment.
A Squirrel Knows No Boundries......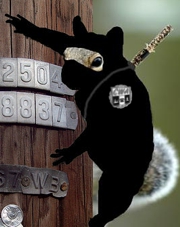 NEWS, CALENDAR, DOCUMENTS, PHOTOS, CONTACT, LINKS, MAIL